Hello! I'm Marta Lou; my friends call me Marta. I am a glass artist since 2018– mainly stained glass. I currently make panels and suncatchers from original designs. I hope to continue learning and exploring glass painting, fusing, and window restoration. I studied photography in high school and college which allowed me to dip a toe into graphic design. I finished college with a business degree, but I always continued my education in the arts. Including: drawing, painting, collage, crochet, printmaking, baking and decorating pastries.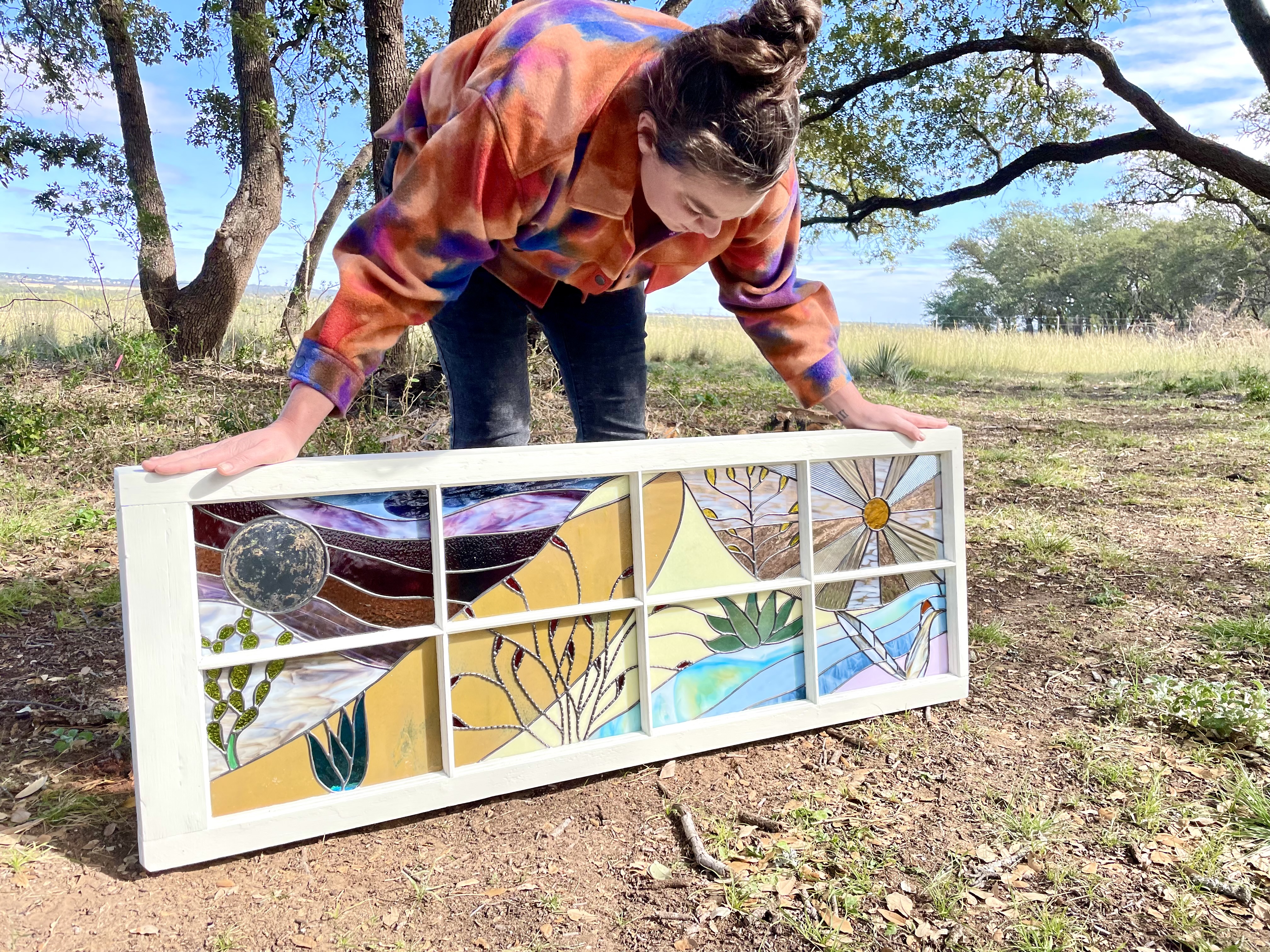 I am a native Texan, and small town life is my normal. I enjoy my private life out in the boonies—literally in the "heart of Texas." My husband, Wes, and I enjoy viewing the wildlife; hummingbirds, songbirds, turkey, deer, bobcats, skunks, squirrels, and listening to the coyotes. At night we enjoy star gazing in our Bortle 2 skies. And when we get bored with small town life, we go on long road trips to the mountains in search of different wildlife and scenery. But we most enjoy being home at Rancho de Luz with our dog, Hector, and cats, Mulder and Scully.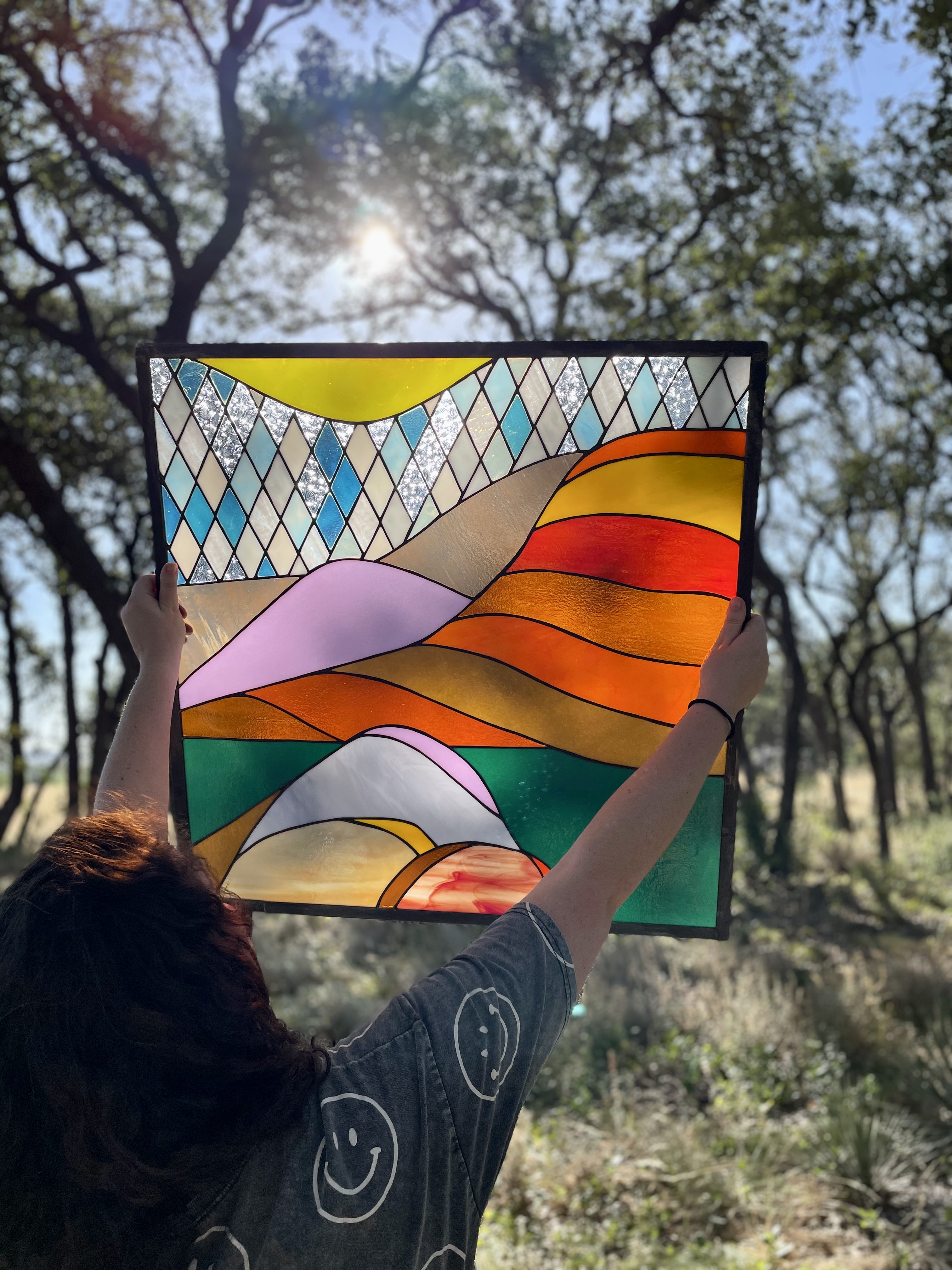 Artist Journal:


Pressure 2023


I feel under pressure. Not in an anxious way. I feel aware of my path. I feel a shift in my life, my outlook, who I am. I decided on this. And I am happy about it. It is like the movement of tectonic plates—slowly converging and detracting, to form a new world or landscape. Is the earth underneath our feet slowly, methodically shifting? Do you look at a snapshot of your life and think: where did that mountain come from? The landscape of my life is completely different now. The patience of moving through the pressure, and shifting decisions, has created something truly beautiful. Sometimes I forget to look around and appreciate the landscape I have slowly created, and I strive to continue down an intentional path—but also leave room for magic. This collection contains inspiration from pressure in geological forms, landscape, and nature.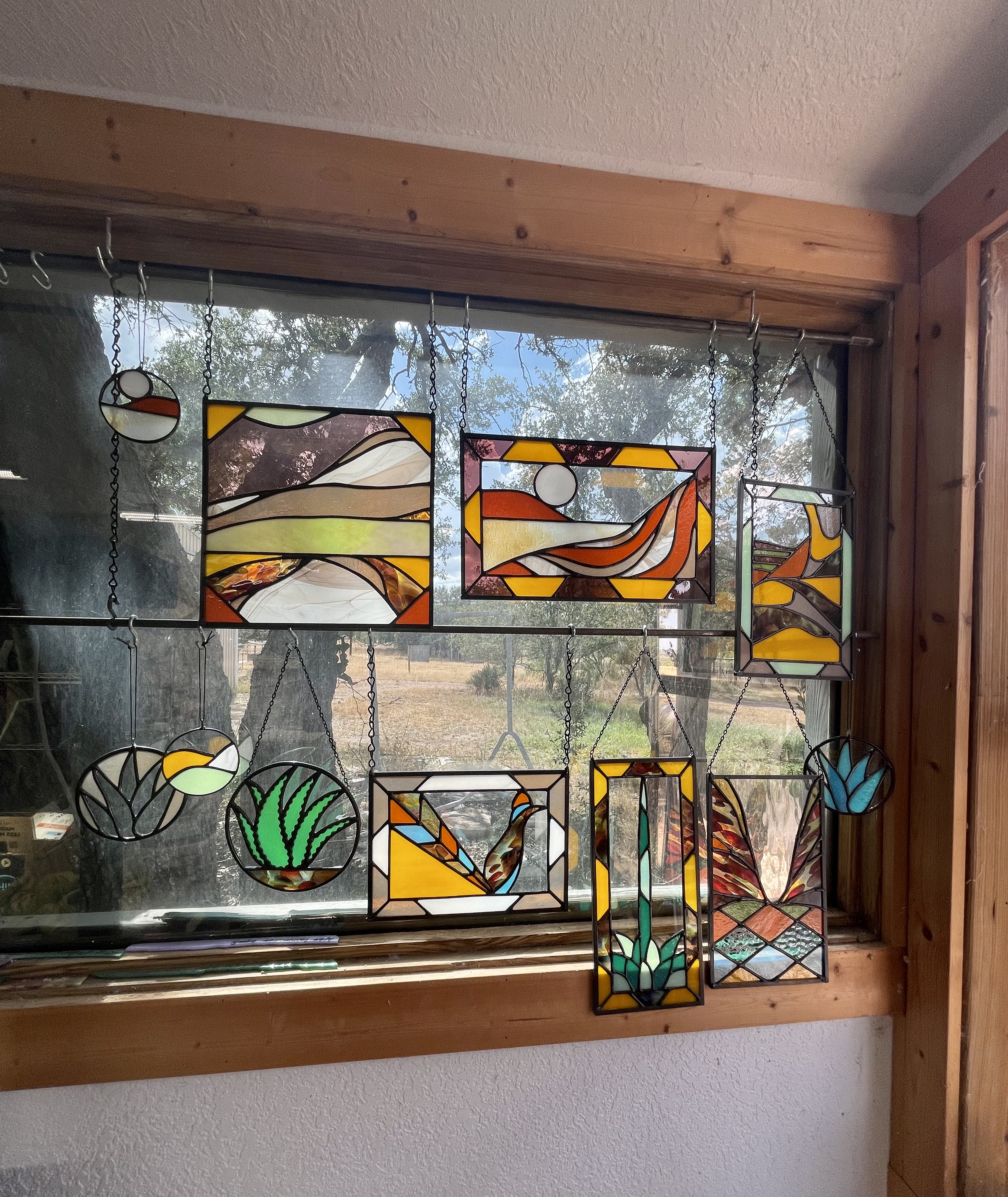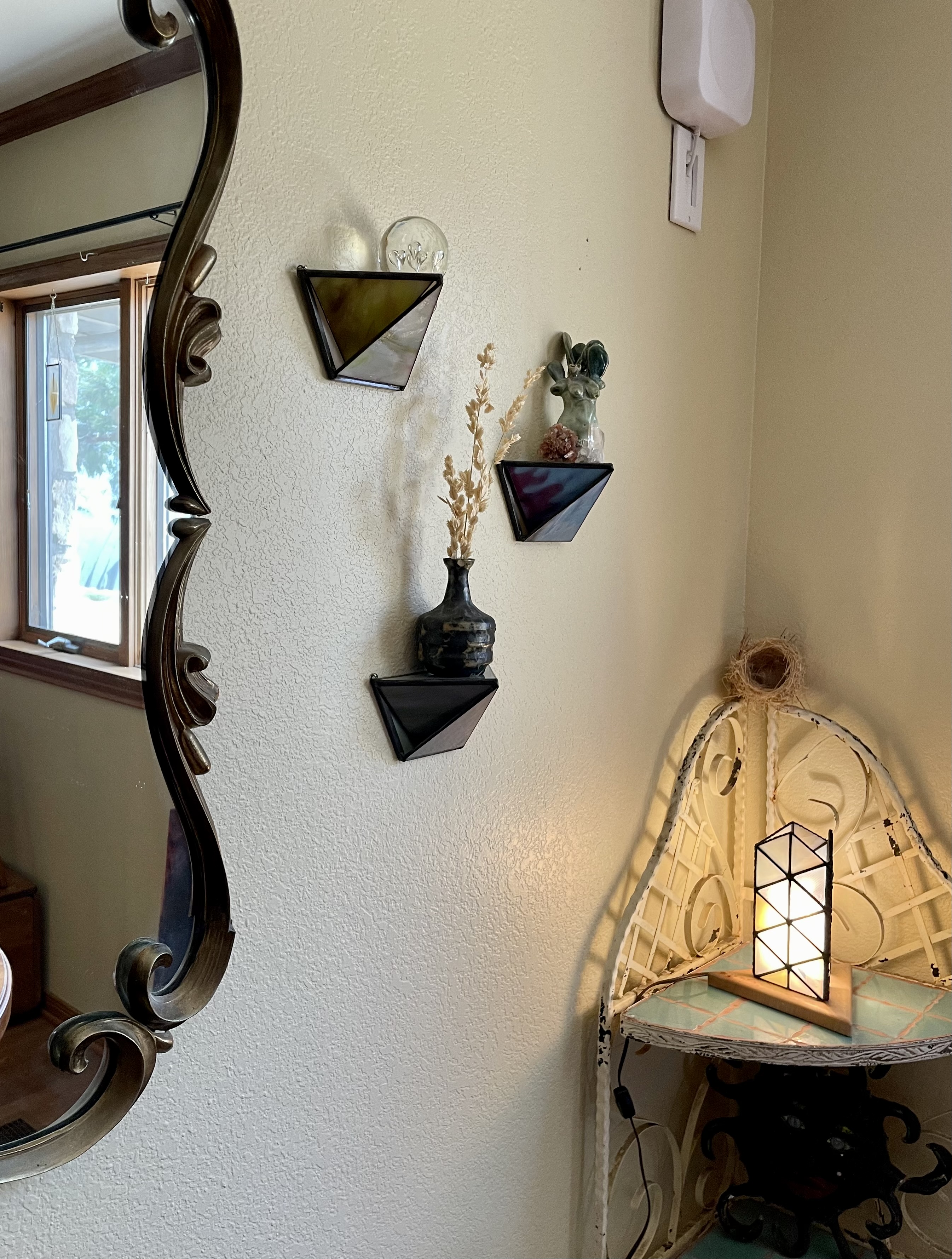 Rain 2023

This collection, "Rain," is inspired by the changes in my yard from the abundance of rain—and then the lack of it. We have been in a drought here in London, Tx, for well over a year, maybe two. Everything crispy, crunchy, and golden—starving. We received some rain in the late spring, and the yard exploded with life. The bugs, plants, birds, and animals seemed to rejoice and show off! Incredible blooms, singing birds nesting, thousands of butterflies. Now the earth is golden and cracking again. I am not mourning, but trying to focus on the hope that rain and abundance will return. And also honoring the memory of that beauty through this collection.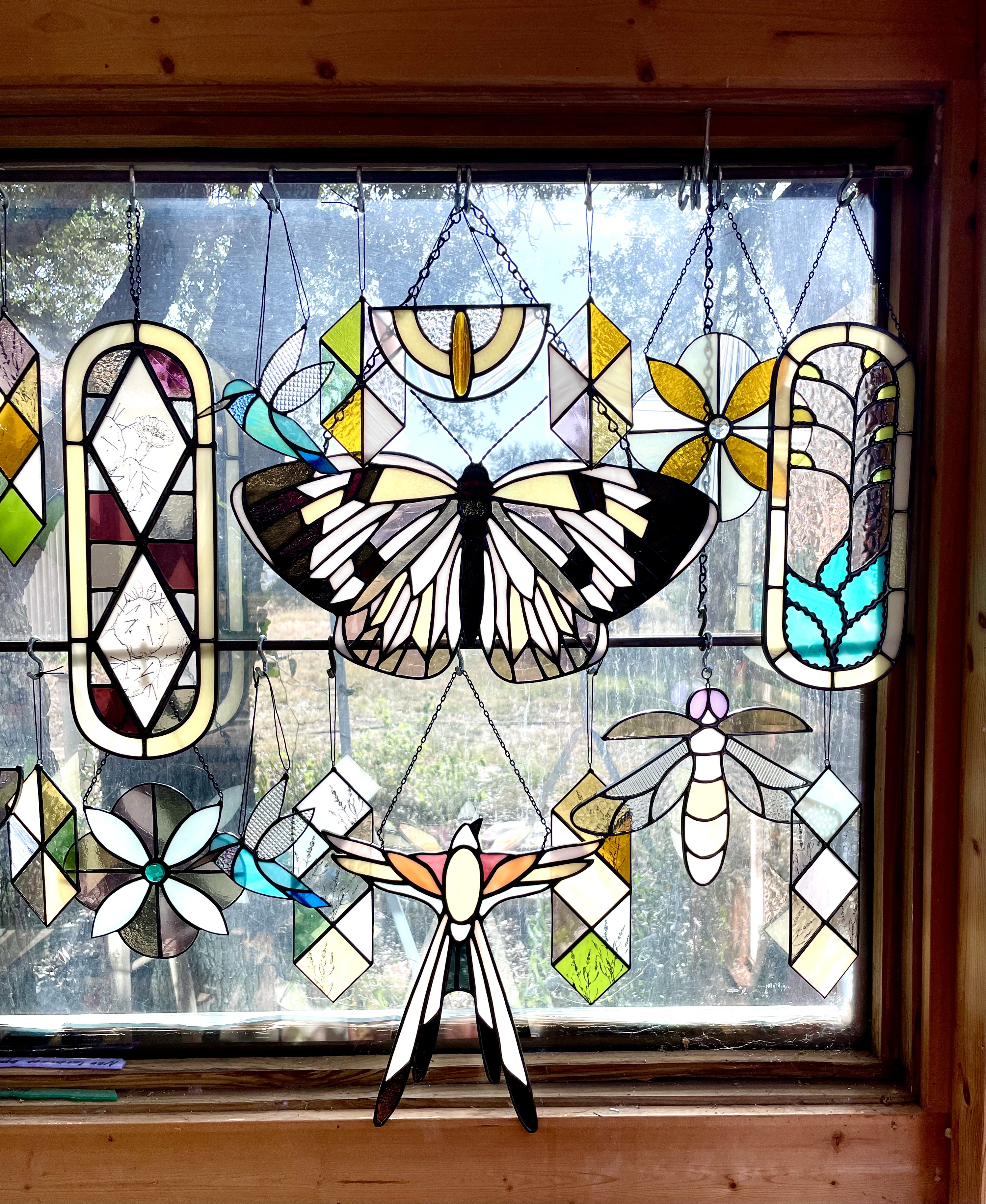 Patchwork 2022

The Patchwork collection is inspired by an emotional journey and reclaiming the artistic expression of my grandmothers. I am grateful for their impact on me as an artist and a granddaughter. I hold them in my heart everyday to help guide me. As I walk through life, I break things down to make them better. This stained glass collection is a glimpse into that process.
Patchwork. Patch – work. Patchwork is composed of many elements to create a work of art. The need to take things apart and put them back together in a more beautiful way. Such as cutting apart an old wardrobe and piecing it into quilt that will serve you better. Respecting, nurturing, revitalizing. Like breaking a sheet of glass to put it back together—to illuminate and express. Or like separating the parts of your mind: stalking the wolf—shining a light on the critic in your mind—to cultivate inner peace.
Patchwork is big element of quilting. Quilting makes a lot of us think of the elder women in our lives. Creativity and creating was engrained in my grandmothers' personalities. I believe they were inspired to create to express love, to preserve memories, and to keep their families warm. My Grandma Letha Faye made beautiful, intricate, perfect, quilts for family and church. My Nana Mary Nell also made quilts using family members clothing such as denim, button down shirts, suit ties, and handkerchiefs. I was lucky to grow up with these two women artists. They taught me how to think creatively and how to express love through art.